Perfectly straight, smooth hair is what most girls want. We especially crave smooth manageable hair early in the mornings when most of our time is spent blow drying or flat ironing it. With numerous hair straightening products available in the market, hair straightening at home is become quite easy. But the results don't last long enough. To make our lives easier, Matrix came up with an innovative Ceramide infused permanent hair straightening treatment for nourished hair that is straighter, smoother, frizz-free and more manageable.
How does Matrix Smooth Protect service work?
Matrix opti smooth service features a deeply smoothing Ceramide infused treatment makes the hair looks healthier. Smooth Protect Service is performed by using Opti Smooth range from Matrix. It's smoothing properties make hair soft, straight and smooth. It is a permanent service so the results will last till new hair growth. Even then, all you will need is touch-ups. The best part about Matrix Smooth Protect hair straightening is that it is 100% formaldehyde-free. Formaldehyde can cause a lot of health problems.
Key benefits of Matrix Opti Smooth straightening service
Hair is naturally moisturized and conditioned.
Curl reduction, Frizz and volume control.
Straighter, smoother hair that always looks natural.
100 % safe and formaldehyde free
The results is permanent straight hair that lasts long.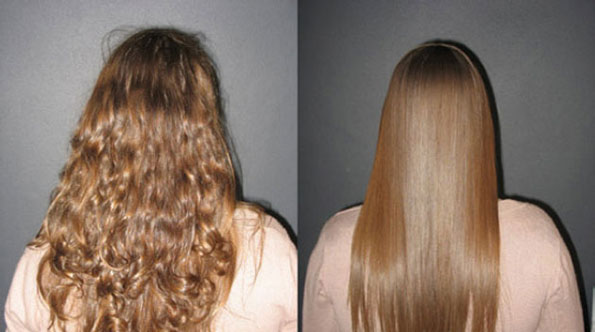 Tips to maintain your straightened hair after Smooth Protect Service
1) Avoid shampooing & using hair clips, bands for minimum 72 hours as it can create permanent bends in the hair and can also lead to breakage.

2) Wait 14 days before applying any type of hair color on your hair.

3) Use Matrix Opti.care smoothing shampoo, Opti.care smoothing conditioner, and Opti.care split end serum regularly to maintain healthy looking, silky straight hair.


Matrix hair straightening treatment cannot be performed on previous bleached or henna hair but can be performed on coloured hair. Although you cannot colour your hair for another 2 weeks after the hair treatment.
It can be performed in two ways:
-Cold smoothing : this will relax the frizzy hair
-Heat smoothing: this will give you dead straight result